Welcome to Braman Motorcars of Jupiter, Florida
- the place where you can discover and delight in all your luxury car needs.
From online assistance to personalized attention, you'll find that customer service is our highest priority. We've served Florida for over 30 years, working strong in the community and providing people with
luxury MINI
,
Porsche
,
Bentley
,
Rolls-Royce
, and, of course,
BMW
cars. Here, where the trees sway in the wind, the atmosphere is balmy, and the turquoise waters reflect the sky, it's the perfect place to enjoy a brand
new luxury car
.
Our staff is more than ready to help you in your search for the perfect vehicle. Professional and highly-trained, we value your time in every way and are committed to providing a world-class experience. From showing you new cars to certified pre-owned, providing parts for your current luxury vehicle, or offering a test drive at your home or office, all these things and more will provide you with an experience that is uniquely Braman.
---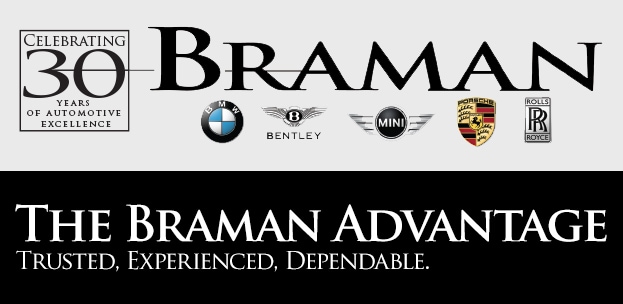 Are You Ready for Club Braman?
Shopping at Braman in Jupiter, FL doesn't stop after the purchase. We're here to make the community something special, and that means participating in a number of events. When you lease or buy a new or certified pre-owned luxury car, you automatically become a part of
Club Braman
, an excellent way to experience various events and so much more.
From social occasions to sporting events, you can enjoy a day full of polo, see brand new BMWs, Bentleys, and more at vehicle launch parties.
You can also participate in our
Performance Driving Event
, which gives you the chance to drive your car like never before. Zoom around a track reserved specifically for Club Braman members, and work closely with an expert driver to really discover what your car can do!
A Money Back Guarantee Means Peace of Mind
We know how important it is for you to be 100 percent satisfied with your purchase. We want you to enjoy every second you spend in your 2015 BMW 328i or 2016 BMW X3 xDrive28i. But what if you realize that you would prefer a 2 Series over a 3 Series? Or an X5 instead of the M3? It's important to know that you have Braman's 3-day/200-mile
Money Back Guarantee
, which is available on most new and pre-owned vehicles. This means that if there is any reason you aren't satisfied with your purchase, simply return to Braman and let them know. They'll work with you not only to ensure the guarantee, but also to help you find the one luxury vehicle that you truly do love.
The Best Luxury Automotive Experience You Could Ask For
Braman Jupiter is renowned for its customer service, selection of luxury vehicles, and much more. You'll find amazing specials and deals on any number of cars each and every month. Save thousands on a
certified pre-owned BMW X1
, or enjoy the versatility of a
lease special on a BMW 740i
. Or simply buy a brand new BMW to treat yourself.
The possibilities are endless at Braman. From start to finish, purchase to service, Braman is there for all your BMW needs. It's there you will find the selection, assistance, information, and satisfaction that you've always hoped to have from a luxury car dealership. So come and visit Braman Motorcars - because it's about time to say that You've Arrived.
Choose Braman Motorcars of Jupiter, FL: You've Arrived